Brain Development Scholarship Exam prepares the students for future competitive exams. BDS exam is the best solution for developing your child.
Eligibility:
     – Student of std. I,II, III, IV, V, VI, VII, VIII, IX of S.S.C., I.C.S.E OR C.B.S.E. pattern.
Medium Of Examination:
     – English or Marathi or Semi-English
Nature Of Examination:
     – Entire paper will be of objective type. Each question will be provided by 4 alternatives. Negative marking will not be applied for any wrong answer. Duration of exam will be 2 hrs. i.e. 120 min. Each paper contains 50 questions on Maths, 25 questions on Science and 25 questions on Intelligence. Each question will carry 1 mark.
Books & Syllabus:
     – Prescribed text book for the 'Brain Development Scholarship Examination' have been Published by the institute under the title, "A Text Book For Brain Development Scholarship Examination." For all standards. The Prescribed Syllabus for all the classes will be covering the regular syllabus but will be of an advance level.
Examination Fees and study material charges: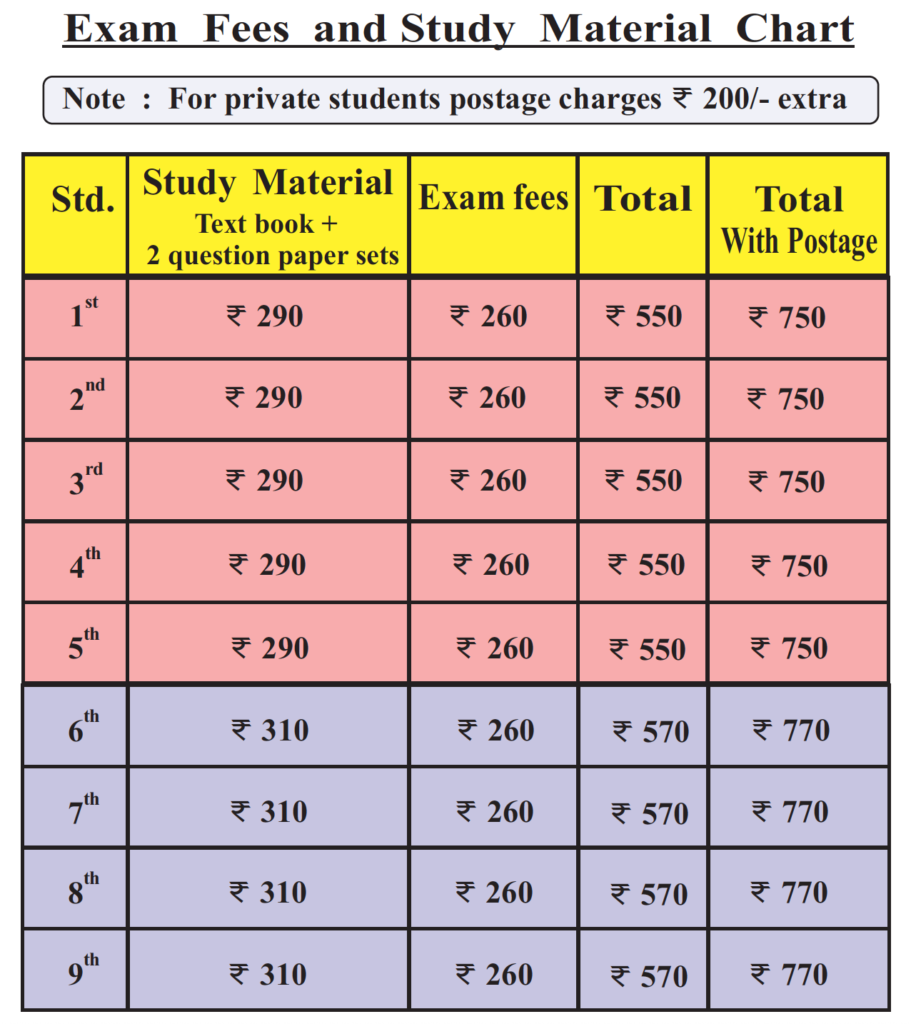 Mode of Payment of Fees:
     – Examination Fees and price of books, question paper set can be paid in cash /Online mode / Scan and Pay / Gpay /Draft /Money order in favour of " Brain Development Scholarship " payable at Kolhapur
Date of Examination:
     – Final exam will be conducted on 2nd or 3rd Sunday of January every year. Completely filled application forms attached herewith are to be submitted along with above mentioned fees before 15th September. This academic year the exam will be conducted on Sunday 7th Jan. 2024 Or  21st Jan. 2024
Late Fees:
     – Application forms submitted after the last date will be accepted along with the late fees of Rs.200 up to 15th October.
Hall Ticket:
     – Hall tickets containing exam seat number and examination center will be sent to all the participating schools and to private students till 15th December. The Director reserves the right to change the center /dates of examination under unavoidable circumstances.
Reassessment of Marks:
     – Student should pay Rs.200/- per paper by Online Mode of Payment /Demand Drafts for rechecking of their paper on or Before
2oth April 2023 .
   After rechecking Xerox copy of the students Answer Sheet will be sent at the given address.
Result:
     – The result of final Scholarship Examination will be declared in month of April.
Centres for Examination:
     – Kolhapur, Sangli, Satara, Pune, Nasik, Solapur, Belgum, Goa, Mumbai etc. Click here to find out a centre near you.
Merit Ranking Criteria:
     – Ranking of merit list will be done in descending order of marks. In case two or more students score equal marks at the final exam then the preference will be given as follows :
Student having more marks in Mathematics.
Student having more marks in Intelligence.
Student having more marks in Science.